Introduction To Public Speaking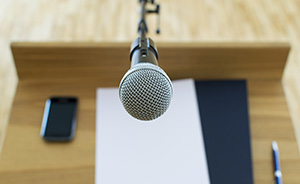 Details
Number of Lessons: 3
Avg. Lesson Length: 27 Minutes
Time Required: 3 Hours Minimum
Level: Basic
Description
Does speaking in front of a group of people incite terror in you? It's on the top of the list of things that people fear most. In Introduction to Public Speaking you will learn how to prepare your speech—from an introduction that grabs the attention of your audience, to content that keeps them engaged, to a conclusion that gives people something they can do tomorrow as a result of what you said today. These steps will help calm your nerves and make you an effective speaker. Get started today.
Reviews
This course is exactly what I needed at this time in my life. In God's strength and through the Holy Spirit I now have a psychological, down-to-earth approach of saying what needs to be said.
Leanne
Course Reviewed: 1 week ago
Very good.
Dusty
Course Reviewed: 1 week ago
Professor
Haddon W. Robinson, PhD (1931-2017)
University of Illinois, PhD
Southern Methodist University, MA
Dallas Theological Seminary, ThM
Objectives
Have something important to say to his audience.
Arrange material so listeners will receive it.
Understand and apply the theory behind speaking as listeners like it.
Understand the five steps in preparing a speech that listeners like.
Learning Paths
Advanced Studies in Christian LeadershipDetails
Reviews
As someone who is a bible college graduate over 20 years ago. Having the pleasure to take this class really gave me a great start at learning how to organize my speeches and sermons.
Adam
Course Reviewed: 1 week ago
I really enjoyed this course and everything that it had to offer. It really taught me a lot about how to public speak more effectively. Being an English teacher, I teach lessons on how they can public speak and I will definitely use some of this material to teach them as well.
Michael
Course Reviewed: 1 month ago
Communication is an ongoing learning process and is an always needed tool. I enjoyed the information conveyed.
Alice
Course Reviewed: 2 months ago
Great class. Well organized and informative.
Eliza
Course Reviewed: 3 months ago
Opened up new ideas for me to consider during my public speaking
Jason
Course Reviewed: 3 months ago
This is an excellent course which shows a simple & practical way to outline along with present a speech/talk. It will help me be a better presenter by looking at a speech as a talk with many people instead of a big presentation.
Charles
Course Reviewed: 5 months ago
Excellent Course!
David
Course Reviewed: 6 months ago
This course has taught me that in public speaking I am to fulfill a need for the audience. To meet that need I must be plain and direct about what I want them to hear. Show them what I am trying to say by giving real life examples. Tell them how to apply what they have heard to their lives or give them the opportunity to choose to use the application.
Stephanie
Course Reviewed: 6 months ago
It is revolutionary, encouraging, challenging, confrontational and yet loaded with a message of HOPE for individuals, groups and Churches. It is fully packed with knowledge and wisdom of God for us to understand, practical and insightful. Thank you for this life-changing course.
Sebo
Course Reviewed: 7 months ago
Thank you some very good points in a way that make it clear to understand.
Greg
Course Reviewed: 11 months ago