Introduction To Public Speaking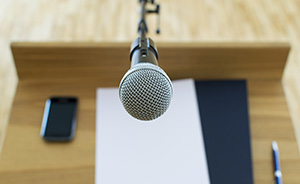 Details
Number of Lessons: 3
Avg. Lesson Length: 27 Minutes
Time Required: 3 Hours Minimum
Level: Basic
Description
Does speaking in front of a group of people incite terror in you? It's on the top of the list of things that people fear most. In Introduction to Public Speaking you will learn how to prepare your speech—from an introduction that grabs the attention of your audience, to content that keeps them engaged, to a conclusion that gives people something they can do tomorrow as a result of what you said today. These steps will help calm your nerves and make you an effective speaker. Get started today.
Reviews
This course was very interesting, informative and well put together, I feel I have learnt a lot about how to start putting a speech together.
Alison
Course Reviewed: 1 week ago
Very informative
Miguel
Course Reviewed: 10 months ago
Professor
Haddon W. Robinson, PhD (1931-2017)
University of Illinois, PhD
Southern Methodist University, MA
Dallas Theological Seminary, ThM
Objectives
Have something important to say to his audience.
Arrange material so listeners will receive it.
Understand and apply the theory behind speaking as listeners like it.
Understand the five steps in preparing a speech that listeners like.
Activities
Video Lectures
Audio Lectures
Transcripts
Discussion Questions
Quizzes & Exams
Learning Paths
Advanced Studies in Christian LeadershipDetails
Reviews
Dr. Robinson is good. The transcript helps me understand what does the speaker wants me to tell. I learned a lot, especially in how I can apply it.
Vincent
Course Reviewed: 11 months ago
This course was very interesting while practical. I can see where it will surely improve my public speaking preparation of speech and execution. It was very visual and kept my attention for more than 30 minutes. I will surely recommend this course.
JarDanell
Course Reviewed: 12 months ago
Good, easy to follow steps to writing a good talk.
Philip
Course Reviewed: 1 year ago
The classes have been informative, the instructors have been great. Would recommend these courses to want to be enlightened.
Kenneth
Course Reviewed: 1 year ago
Love, love love this!! Very interesting and informative thank you very much.
Ingrid
Course Reviewed: 1 year ago
I learned a lot from this course and was able to apply it to a lecture yesterday and it went very well.
Veronica
Course Reviewed: 1 year ago
Overall, in this course, one was able to refresh one's memory knowledge. As well as, broaden my knowledge based on how, when, and where while speaking and presenting the correct way as it relates to Public Speaking.
Valerie
Course Reviewed: 2 years ago
This course is exactly what I needed at this time in my life. In God's strength and through the Holy Spirit I now have a psychological, down-to-earth approach of saying what needs to be said.
Leanne
Course Reviewed: 2 years ago
Very good.
Dusty
Course Reviewed: 2 years ago
As someone who is a bible college graduate over 20 years ago. Having the pleasure to take this class really gave me a great start at learning how to organize my speeches and sermons.
Adam
Course Reviewed: 2 years ago