Ten Reasons to Believe in the Christian Faith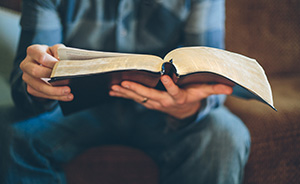 Details
Number of Lessons: 10
Avg. Lesson Length: 5 Minutes
Time Required: 4 Hours Minimum
Level: Intermediate
Description
People have many reasons for rejecting the Christian faith. Some may admire Christ but dislike His followers. Others find it difficult to accept any faith that claims to be the only way to God. Why would anyone limit themselves to only one of the world's great religions? If the Christian faith is the true path to God, what is the evidence for this? This course will examine the credibility of its founder, the reliability of its book, its explanations for life, its impact on society, its offer of salvation, and other topics to discover "Ten Reasons to Believe in the Christian Faith."
Reviews
This was good and rich. Not watered down, but a wonderful presentation about the Christian faith. Thank you.
Pamela
Course Reviewed: 5 months ago
I learned a lot from this course. Thank you.
William
Course Reviewed: 6 months ago
Professor
Our Daily Bread University
Objectives
To introduce students to the basic fundamentals of the Christian faith.
To provide scholarly and historical evidence for the validity of Christianity.
To encourage logical thinking in evaluating the authenticity of the teachings of Jesus and of the Bible.
Learning Paths
Christian Foundations IDetails
Reviews
This course provided me with extra outside reading that I found very helpful and will use for a long time.
Amanda
Course Reviewed: 6 months ago
Blessed be you all for painstakingly bring out this course. Just as Jesus did in His day and Time and the Holy Spirit of God does to us today, you all have simplified the understanding of God, Scriptures, Jesus and what is expected of us. I found the material to stimulate my thoughts and re-examine life (thoughts, past experience / doctrine etc) and make amends in the right direction.
Jair
Course Reviewed: 9 months ago
I enjoy the layout, easy to navigate through, pick up where you left off, and learned a lot!
Loni
Course Reviewed: 10 months ago