Ten Reasons to Believe in the Christian Faith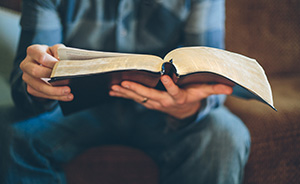 Details
Number of Lessons: 10
Avg. Lesson Length: 5 Minutes
Time Required: 4 Hours Minimum
Level: Intermediate
Description
People have many reasons for rejecting the Christian faith. Some may admire Christ but dislike His followers. Others find it difficult to accept any faith that claims to be the only way to God. Why would anyone limit themselves to only one of the world's great religions? If the Christian faith is the true path to God, what is the evidence for this? This course will examine the credibility of its founder, the reliability of its book, its explanations for life, its impact on society, its offer of salvation, and other topics to discover "Ten Reasons to Believe in the Christian Faith."
This course is part of our Legacy Series of courses from renowned scholars over several decades.
Reviews
I did not think that this old brain could ever work again but you made it tick. I have learned and I am one step higher as I walk up the King's highway.
Earlene
Course Reviewed: 6 months ago
This course helps one grow as a Christian. There were ample tools to help further the topics that were discussed. It was good that the speakers went over the historical aspects of the bible.Reminders that Jesus is the God of the past present and future: He is very relevant to today's time.
Robina
Course Reviewed: 8 months ago
Objectives
To introduce students to the basic fundamentals of the Christian faith.
To provide scholarly and historical evidence for the validity of Christianity.
To encourage logical thinking in evaluating the authenticity of the teachings of Jesus and of the Bible.
Activities
Video Lectures
Audio Lectures
Transcripts
Quizzes & Exams
Reviews
Very wonderful course. I learned a lot and gained a closer relationship to my faith.
Kenneth
Course Reviewed: 12 months ago
Very informative I learned a lot!
Calvin
Course Reviewed: 1 year ago
Very good. Enlightening.
Donald
Course Reviewed: 1 year ago
I am not an avid reader, but I sincerely enjoyed the lessons. They were very informative and I learned many new things that I had not considered before. After completing the final exam and while I was trying to review my answers, we experienced a power outage and I was unable to review my answers or do a retest.
Nikki
Course Reviewed: 1 year ago
I think that the courses was very informative.
Stacee
Course Reviewed: 1 year ago
What a blessing? I had heard of the apologetics and didn't care to study about it, but now I understand. The lessons are so we'll set up. I'm enjoying the journey.
Tondra
Course Reviewed: 1 year ago
I enjoyed the layout of the course and the self-paced method.
Sara
Course Reviewed: 1 year ago
Well worthwhile in doing. Looking forward to doing more courses.
James
Course Reviewed: 1 year ago
Kind of tough. I learned a lot.
Susan
Course Reviewed: 2 years ago
I really enjoyed the Course and gained a true blessing. I am looking forward to learning more of the Scripture in the next Course of study thank you so much and God Bless you all. 🙂
Josephine
Course Reviewed: 2 years ago